Back to all posts
Posted on
Arrowwood Students Take the Lead!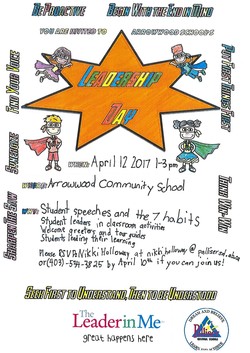 Leadership Day an opportunity to demonstrate Leader in Me efforts
ARROWWOOD — Students at Arrowwood Community School will stretch their leadership muscle at Leadership Day, from 1 to 3 p.m., April 12.
The public and teachers interested in The Leader in Me program are invited to visit the school for student presentations on aspects of leadership, student-led school tours and classroom activities at which students will demonstrate their learning.
The Leader in Me is a school program based on the 7 Habits of Highly Effective People, developed by Stephen R. Covey. Arrowwood Community School is in its fourth year of developing a Leader in Me program and is working toward achieving what the program calls "Lighthouse Status." Holding a Leadership Day is one of the requirements.
It's also a great opportunity for students to show how intertwined leadership is in everything about the school, says Principal Rachelle Prud'Homme.
For the rest of the article visit: Palliser Regional Schools News Article