Back to all posts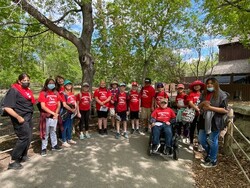 Many thanks to the Arrowwood Community School Lighthouse Team for funding our trip to the Calgary Zoo.
This was the big culmination to our One School, One Book event for The One and Only Ivan. It was an awesome day and we got to see the gorillas, their enclosure and the new baby gorilla.
Thanks to those parents who were able to volunteer as group leaders for the day.
Many thanks to all our Arrowwood Community School Families for participating in the One School, One Book event.