Back to all posts
Posted on
Christmas Concert - Welcome Back To Christmas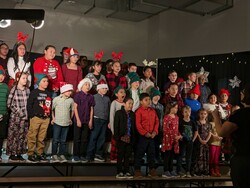 We were so excited to be able to present a Christmas concert in person again - and with glitches with the extremely cold weather changing things last minute, we were still able to share on Friday, December 23rd in the morning for one show only.
Thank you to all who came out to support us and thank you to the classroom teachers, and Mrs. Walker for your efforts in practices and costumes.
Once again it was a lovely production and the students all did a fantastic job!!